Maryland development burned by the ELF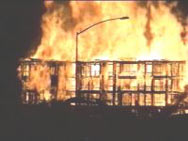 Hagerstown, MD:
DECEMBER 21, 2005
- the
Earth liberation Front
claimed responsibility for a fire sunday that completely destroyed recently built, unoccupied townhouses. The fire caused an estimated $225,000 in damages. the responsibility was claimed in a letter sent to the local newspaper. it read "Last night we, the Earth Liberation Front, put the tourch to a development of ryan homes in Hagerstown, Maryland (off of route 40, behind the Wallmart). We did so to strike at the bottom line of this country's most netorious land rapist. We warn all developers that the people of the Earth are prepared to defend what remains of the wild and the green. we encourage all who watch with sadness while developers sell out the future of us and our children to join us in resisting them in any and every possible way. the Ents are going to war!"